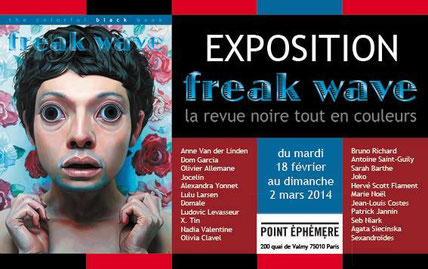 Parution du n°5 de la revue
FREAK WEAVE
le 18 FEVRIER 2014
EXPO du 18.02.2014
          au 02.03.2014


au POINT EPHEMERE
200 quai de valmy
75010 Paris
présentation en français sur mon blog

Trois de mes toiles y figurent, aux côtés des travaux d'autres artistes de la FREAK WAVE.
the rest of this article is in English (as possible), but here is a link to my blog (in French) about the Freak Wave:
"FREAK WAVE? Did you say FREAK WAVE?"
Freak Wave is a "subversive and misanthropic" french magazine that calls itself "Black review full color" and was created at the initiative of two french painters: Olivier Allemane and Anne van der Linden.
The magazine is published since 2008 by "Bruit Blanc". Annual then biennial, I follow the publications from the beginning, from the first opening at the parisian Gallery  "Les Singuliers" in 2008. I relish every time images and texts it proposes to discover.
Number 5 of the journal is published this month of February 2014.
WHAT IS A FREAK WAVE?
It is a wave that rises on the high seas and not a tidal wave that appears at the edge of the coast (sic). Freak waves are rare and their peak height is unusually high, they appear without any storm, ships can not withstand the pressure (re-sic).
It took many scientific research to make this once legendary freak wave a reality.
ABOUT THE MAGAZINE
Freak Wave ( Bruit Blanc editions ) presents artists with varied universe but related in some way : "Art Brut, Art outsized, pornographic art, underground literature, decadent poetry, all designations reality overflows into a demonstration Beauty truly sordid and shocking . " That being said, so dixit.
I discovered or rediscovered in previous editions many works and artists (known, unknown) enrolled in their time: they bite and they spit, they tear and sew epidermis, they suck and they swallow, they digest and shit they, they  eat what makes them vomit. It countains organs and body fluid, it is homo faber crossed with an animal that reflects and is reflected in history.
I think about all sofas and curtains whose colors do not marry with my paintings. Very proud X.TiN ... and happy to enter into a family of villains, not fucking evil academies and good taste .
I thank warmly the instigators of this magazine who contacted me, offering me what no one else had previously offered me: my paintings will be seen frontally and raw, without frills or blabla .
And sorry for bad translation, I did the best and I hope you will understand what is important!